Others - Restaurants, Sightseeing
The Czech Republic is more than staying in a hotel.
We have many years of experience with journeys in the Czech Republic - but absolutely in Prague only - which we will be pleased to share with you. Here are a part of what you can enjoy, while you are in Prague:
Navigation: Prague Restaurants, Prague Sightseeing, Outside Prague Restaurants, Outside Prague Sightseeing
Prague Restaurants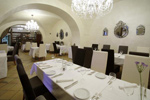 Restaurant Bella Vista is a good summer restaurant, which has the greatest view of the town. Restaurant Bella Vista is situated in front of the white convent The Monastery of Strahov (Strahovský klášter), which you can see on the left side of the castle Hradčany - if you look from Charles Bridge (Karlův Most). You can take the change and hope to get one of the attractive tables on the edge with the view, but you can make a reservation too at: www.bella-vista.cz. On the left under "Reservations" - and write what you want. To say it frankly - it is not the cheapest restaurant in town, but food is excellent. The address is Strahovské nádvoří 1, Prague 1.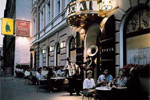 If you like something more typical Czech, you have to go somewhere else. Restaurant U Kalicha - which is the original Soldat Švejk - restaurant, where the proud soldier should meet his fellow soldier after WWI. U Kalicha has a small - it means really small - restaurant where can be not more than 10 persons, but you can participate in a big party in the evening in the restaurant behind the big doors - and space enough for 300 guests. If you want to be sure to have a place, you should use the uppertunity to make a reservation at: www.ukalicha.cz. The address is Na Bojišti 12-14, Prague 2 - approx. 300 meters from the National Museum (Národní Muzeum) - a sidewalk of the road direction Vienna.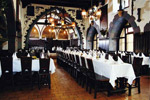 U Fleků (www.ufleku.cz) - very famous too. It is famouos for the big garden and the black beer brewed directly in this place. Very often there is some appearance inside the restaurant at evening, but even the waiters could have been actors too. The address is Křemencova 11, Prague 1 - not far from the National Theatre (Národní Divadlo) and therefore not far from the river, Vltava.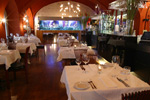 If you want to enjoy the Charles Bridge (Karlův Most), the Restaurant Kampa Park is absolutely recommendable. The restaurant is situated just at the waterline on the right side of Charles Bridge (Karlův Most) - when you come from Old Town Square (Staroměstské náměstí) - on the Malá Strana side of Vltava. At Kampa Park you will have to accept the prices before walking in - else it would be crowded with tourists, who just want to enjoy the view. It isn't the cheapest restaurant in town, but you have to pay a little more for the view. You can learn more at www.kampagroup.com. The address is very simple: Kampa Park, Prague 1.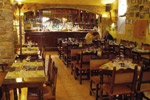 You can come into caribian mood in Prague too. Just go to Restaurant La Bodeguita del Medio, who is a restaurant after a cuban concept. The restaurant can have both big and small groups, but if you arrive more than 4 or 6 persons, we will suggest to make a reservation. At the streetside there is a superb cocktail-bar, but behind the extereuer they hide many big and small rooms, which makes it very comrotable. If you like cigars, La Bodeguita del Medio has its own cigarshop and smokingsaloon, where you really can enjoy the cigar. If you want to know more - e.g. about menus, so visit this site: www.bodeguita.cz. The address is Kaprova 5, Prague 1. The street goes from Staroměstské náměstí and Rudolfium - the former parliament at the river.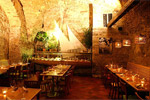 If you are an exotic type, we kan recommend Restaurant Ambiente. Here you will find no menu cards by tradionel means. It is a brazilian inspirered restaurant. They have one menu, where you get up to 18 different kind of meat, fish and desserts all grilled on a spear. It is SUPERIOR delicious, and you can eat as much as you can. At lunch it is cheaper - but anyway it is the easiest time to get a table. But just jumping in without a reservation can be fatal. Naturally, there are also sidedishes - the biggest salad bar in Prague (we think) where you can get also sushi and soups. www.ambi.cz. The address is U Radnice 8/13, Prague 1 - a few steps from the astronomic watch. In case it is totally impossible to get a table here, you can choose a restaurant exactly like Ambiente - same concept - same owners - only without the vaults - at Na Příkopě - in Slovanian House (Slovanský Dům). Na Příkopě is the street crossing the lower end of Wenzels Place (Václavské náměstí).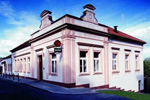 If you want to experience the typical Slavic evening, there is a restaurant where you both get food, drink and a super dancing and singing show with a lovely atmosphere. It is also a place where people could be offered up to dance by the talented local dancers, which gives a show in folk dancing from the Czech Republic and Slovakia - and with the purchase is of course their beautiful people suits. The place is called Restaurant U Marčanů and is located in the western part of Prague, not far from the road to the airport. Of course one can take a taxi out there, but from Dejvická Underground yesterday trams 2-20-26 and 51 to Veleslavínská - and this path is followed a few hundred meters. You have to book a table to participate in the show. E-mail, pictures and little video can be viewed at www.umarcanu.cz. The address is: Veleslavínská 14, Prague 6.
Restaurant Potrefená Husa Na Verandách. Staropramen brewery has its own restaurant, where all dishes containing beer. It sounds strange but is actually a very exciting way to cook the courts on. You can visit and get tours of the brewery, but if you want to make their restaurant, use the following link: www.pivovary-staropramen.cz. The restaurant is called Potrefená Husa Na Verandách, and address is Nádražní 84, Prague 5 (Smíchov).
Prague Sightseeing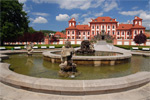 Troja Castle (Trojský Zámek) - built by the count Šternberk in the years 1679-1691 on a rocky slope north of the city. The building is said to be inspired by Versailles Palace in Paris. The French garden is filled with particular Baroque sculptures. Access to the garden goes via the impressive horseshoe-shaped staircase. Indoors impresses the rotating gallery exhibitions along with the beautiful vaulting and more places where the walls are decorated from floor to ceiling. The castle was in 1922 taken over by the state and in the 1970s the castle was totally renovated. See more at: www.ghmp.cz. The address is: U Trojského zámku 1, Holešovice, Prague 7.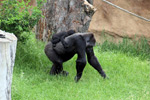 Prague Zoo (Pražská Zoo). Prague's zoo was - despite its high location - hit by floods in August 2002. Prague Zoo is a nature in the wild, so to speak. The garden has an area of 58 hectares, was founded in 1931 and has an annual number of visitors exceeds half a million visitors. The garden has some 1,250 animals in total. It specializes in the production of species threatned by extermination, among these the Przewalski-horse, antilopes, predators, waterfowl and lizards / lizard-like animals. In addition, in the park there are some 300 rare plants and trees. The address is: U Trojského zámku 3, Holešovice, Prague 7. You can stay updated on the activities and entrance fees at www.zoopraha.cz.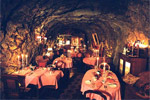 Out in the Troja-rock, of course, you can eat other meals than the animals in the zoo. If you like the luxourious and special meals, there is a restaurant inside a cliff. You are simply walking into a cave, which has been converted into a restaurant. It's called Restaurant Svatá Klára - that is holy Klara. The restaurant was founded in 1679. The address is: U Trojského zámku 35, Holešovice, Prague 7. You can reserve a table - or see more of www.svataklara.cz.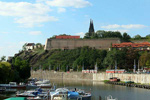 The Vyšehrad Rock (Vyšehradská Skála) is a very special place. It is an old castle site -when you look at it from above most resembles the Kastellet in Copenhagen, and if you walk around, it looks a little like Kronborg at Elsinor, because it was a custom-office in the old days. Situated high above the Vltava River (Moldau) it is nearly impregnable from the river, and there is an impressive sight of Prague from here. Towards Hradčany Castle, Charles Bridge, Petřín Hill or the movie town, known as Europe's Hollywood - on the hill Barrandov, which is situated south-west of Vyšehrad. Walking on the side away from the riverside you can see the Prague skyline and the great deep valley, which is another part of the safe Fortification. It is said that Vyšehrad is where Prague was founded, and we have certainly evidence that it has existed, dating back to 1061 - which is almost 1,000 years ago. You can see an outline plan and more on the history at: www.praha-vysehrad.cz. You can find Vyšehrad from the city center by the red Metro (line A) towards Háje. It is the 2nd stop from Muzeum.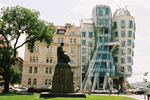 The dancing house (Tančící dům) designed by the American architect Frank O. Gehry and built in 1994-1995. Among Prag-citizens called the Ginger and Fred - inspired by Ginger Rogers and Fred Astaire. Looking at the house, you will discover that there are no straight lines or right angles anywhere. The windows are in varying heights, and in general it is a strange house. Previously this was a typical Czech house, but in the 2nd World War II, it was, as one of the only ones bombed. Long time it was basically empty, but because the Czechs are a creative lot, they seemed like there was created a memorial they would not have adverse thoughts of, to look at. On top of the building there is restaurant La Perla, but otherwise the house is a modern office tower. The address is: Dancing House - Tančící dům, Rašínovo nábřeží 80, Prague 2.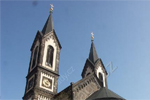 Church of Saints Cyril and Methodius (Kostel svatého Cyrila a Metoděje) resembles perhaps not just the obvious place to go on a visit to Prague. But the church has actually a very exciting history, since it formed the scene of the bloody showdown between the SS and the assassins who wounded Heinrich Heydrich, 18th June 1942. Heydrich was the architect of the detremination of the jewish people and an exceptionally harsh SS leader who tolerated no one else than his own friends and murdered or let people kill themselves for peanuts. Below the church is a museum that displays a little of what happened when Jozef Gabčík and Jan Kubiš, together with 4 other was besieged by the SS. The address is: Resslova, Prague 2 - Nové Město.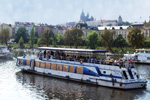 Cruise on Vltava (Moldau) is definitely a couple or three hours worth. There are sailing boats with food and music on board every day. It is of course dependent on what you have to, but might, for example, navigate around noon and enjoy lunch on board and enjoy the many beautiful buildings are operated by. You can also choose to fly at 7 p.m., and then take for example, three-hour trip down at the southern end of town. Når man kommer tilbage til byen er der lys på, og det er både flot og romantisk. When you come back to town, there are lights on, and it is both beautiful and romantic. You can buy tickets at Čechův Most. The company's name is EVD (Evropská vodní doprava) - but you can also book tickets through the company's website. Office, where you buy tickets is such a small pontoon. On the web: www.evd.cz you can see the ships to sail with, prices, etc. The address is: Dvořákovo nábřeží, Prague 1.
Outside Prague Restaurants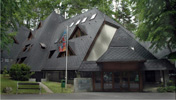 Restaurant Koliba Mladá Boleslav - If you must have a light lunch, visit Restaurant Koliba, which are adjacent to hotel Stefanie - in a small grove on the outskirts of Mladá Boleslav - far away from the city noise. You can see more on the website: www.hotelstefanie.cz. The address is: Na Štěpánce 1184/III, Mladá Boleslav.
Outside Prague Sightseeing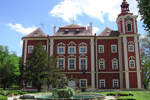 If you want to experience something very special, take a day off to go to Dětenice. It is a very small village approx. 80 km northeast of Prague. The castle Dětenice is bought by private persons in 1998 and restored after a nearly total destruction - at this time a girls home - restored into a pearl. Guided tours in English, German, Italian and we think Russian. And now you are in Dětenice, you can choose to stay at hotel Rustikal next to the castle. Why? Oh, because we think you will participate in medieval event in the evening - in the restaurant on the other side of the castle. Here you probably get the best beer in the Czech Republic. Simply you can't get it elsewhere. The restaurant have tables for 600-700 eating guests at one time - and without telling too much, strange thing will happen during the evening. And about the stay - naturally it is because you might taste the beer, and in the Czech Republic driving with alcohol is strictly prohibited. Absolutely ZERO. The beer isn't strong - but the taste is superb. Don't forget to make a reservation. You can see more at www.detenice.cz. If you press "map", you will find Dětenice.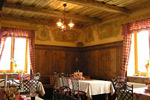 Hotel Rustikal Dětenice, as discribed elsewhere for its medieval castle and the show also offers a small, comfortable hotel. You may contact czechbooking.dk, if you want to stay here in this small hotel after having enjoyed the atmosphere in the restaurant a few hundred meters away, so there is no need to be afraid of not being able to drive home. The address is quite simple: Hotel Rustikal, 507 24 Dětenice. You can see more on www.hoteldetenice.cz.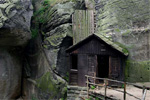 The Bohemian Paradise (Český Ráj). This is one of the most beautiful areas and ideal for an active holiday. Český Ráj is a formation of sandstone cliffs, which paves the way for biking, river rafting and climbing on rocks. The area is absolutely ideal for school groups or companies that will make teambuilding under controlled and safe challenge, as there are many companies that offer active vacation at some sensible prices. Český Ráj is about 100 km from Prague, and extends from Mnichovo Hradiště in the west to Jičín in the east and north is one of the major cities Liberec. Besides hotels and places of residence specially designed for schools, there are actually hotels in the palace - including Hrubá Skála. If you are interested in making an active holiday, you have the palace Dětenice - almost on the way from Prague to Český Ráj. Information you can get on www.cesky-raj.info.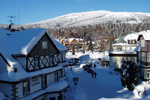 Špindlerův Mlýn - an obvious area for skiing. The area is situated in the Giant Mountains - the high mountains between the former East Germany / Poland and the Czech Republic, where the highest mountain, Sněžka, will be found, too. Here is an incredibly good mood and prices, which will make you stay happy - even for your next ski vacation, even before you are taken away on the first. The area is not for people to be out for black slopes, but for all who want a comfortable skiing at a reasonable distance from home. The whole Giant Mountains region is represented here: www.ergis.cz and looking for pure skiing you can look at www.spindleruv-mlyn.com.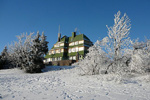 Eagle Mountains (Orlické Hory). The area is about 150 km east-north-east of Prague. The area has fine ski resorts, where there are ski lifts and lots of activity. A popular recreational area is Deštné where there is a restaurant with a hotel close to the border with Poland. The place is called Masarykova chata and Czechoslovakia's first president Tomáš Garrigue Masaryk's cottage, which of course was also used for skiing. The area stretches from about 215 meters above sea level to 1,115 meters at the highest point. Tourism website is www.destne.info and if you want to get in touch with the hotel Masarykova chata directly, you can see more here: www.masarykovachata.unas.cz.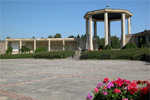 Lidice - is a small and relatively newly built village, if you just drive by. But looking a little at the history, it is horrible. Here lived among others families of Jozef Gabčík and Jan Kubiš, who was involved in the assassination of Heydrich in 1942. As punishment - as the German occupiers were given names of some people - flattened the village to the ground. First, they took all men and boys out of the houses, put them up one housewall and shot them down in cold blood. Subsequently, all women and girls were interned and sent to concentration camp in Poland. Their fate is unknown. But then the Germans burned the village down and flattened it to the ground. Everything was documented on film and sent to Hitler's headquarters in Berlin. There is nothing left of the old village, but where it stood there is a statue of crying children. And in the cultural center of the village you can see the documentaries from 24th June 1942. You can see more on: www.lidice-memorial.cz. Lidice is situated about 40 km northwest of Prague.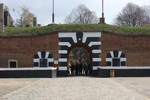 Theresienstadt (Terezín) is probably one of the most famous places in the Czech Republic. The town, which was designed for about 6000 inhabitants, housed during World War II around 60,000 human, as the Germans interned Jews in this ancient fortress. The town is best known for its ancient fortress, which most people believe was the internment camp for Jews, it was actually the whole city, which was one great camp. A few years ago it was possible (and it may still be) to get a guided tour by one of the survivors. It is certainly an experience that gives food for thought. Going to the city around 60 km north of Prague (and not far from the motorway to Dresden - Drážďany) you must be doing a tour of the city's Ghetto Museum, and see if you can get a guided tour. But of course it should not be forgotten that the fortress served as a prison for the criminal Jews. The tour is even worse than in the town Terezín. You can read more at: www.pamatnik-terezin.cz.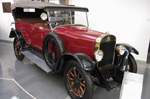 Škoda Auto is one of the country's absolute largest companies with 29,000 employees well. The main plant includes the factory museum, too. 70 out of the factory's nearly 300 vehicles on display. You can order around 50 Danish crowns (190 CZK) come in and see the museum as well as factory with a guide in English, German or French. Škoda Auto is usually not open to individuals, since it would require a completely different tour and much more personal, but groups can enter if they have their own bus with. A tour of the museum, which also shows a few films from the production and the company's more than 110-years history, and a factory visit in two factory halls around 3 hours in total. You may contact Carsten Andersen, Czechbooking, he will be happy to assist with the outcome - possibly also as a guide on the entire trip or you can just troop up, if you only want to enter the museum. For branchefolk er det muligt at få en udvidet tur rundt på fabrikken. For professionals, it is possible to get an extended tour around the factory. Contact Carsten Andersen for further information. There is also a website where you can see a bit more: www.skoda-auto.com. Škoda Auto has address: Václava Klementa 294, Mladá Boleslav. The museum has its own small restaurant "Rally Bar".